Additional photos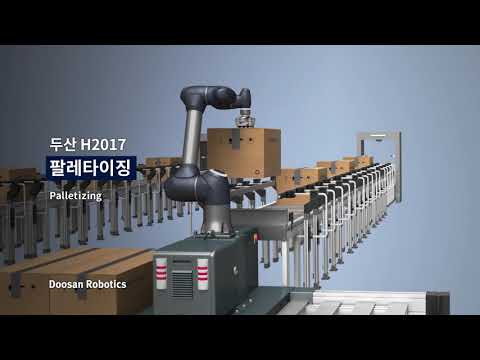 About
The H-SERIES models offer 1,700 mm reach and up to 25 kg payload, marking the heaviest payload among currently available cobots in the market. Comprised of two selections, H2017 and H2515, this high-power lineup weigh only 75 kg, only half of other comparable robots with the same payload. Equipped with six torque sensors on all six axes, the H-SERIES provides the dexterity and flexibility required in variety of applications, in particular logistics and automotive.
Best for
H-SERIES is the most powerful cobot in the market.
It handles up to 25kg payload and six torque sensors bring a safe work environment for any kind of application.
- Ideal for heavy-duty customers
Pricing Overview
Log in for free to reveal the price.
H2017 Reviews
Lode Van Schoubroeck
Vlegel Technology
Apr 21, 2021
Overall

Meet Requirements

Easy to Use

Quality of Documentation

Quality of Support

Maintenance & Uptime

Value for Money

Recommendation
Period
Title
userfriendy cobot and software.
Pro
The option to program the cobot with or without code. You can drag and drop basic functions to the program and when it gets complex you can write custom code.
Con
Other cobot companies have (video) tutorials. With this cobot, you need to search for everything in the user manual which is very time-consuming.
---
H2017 Specifications
| | |
| --- | --- |
| Payload | 20 kg |
| Reach | 1700 mm |
| Repeatability | 0.1 mm |
| Linear speed | 1000 mm/s |
| Number of Axes | 6 |
| Robot mass | 72 kg |
| Industry | |
| Application | |
| Protection rating | IP54 |
| Extra info | - Installation Position: Only floor - Temperature Range: 0~45℃ |
H2017 FAQ
How do Doosan's robots perform differently?
The strength of a collaborative robot is that it can work with humans. Doosan's robots can carry out not only simple auxiliary tasks but also collaborative duties with people. A robot that collaborates with people requires a very high level of robotic functionality. Doosan's robots can exactly simulate the complex action patterns of workers. Doosan's advanced robotic technologies, such as precise force control and adaptive control, make this possible. Moreover, Doosan has built a robust platform. We created our own robot language to run on the stable platform. We then developed a top-level control algorithm that maximizes robot functionality and allows it to be applied in various fields for the best performance.
Are Doosan's robots easy to use?
The excellent performance and functionality of Doosan robots allow even novices to use them easily. We studied the needs of users by visiting more than 200 sites and analyzing the work process of workers on even non-automated sites from the early stage of robot system development. As a result, Doosan introduced the intuitive and easy-to-use robot solution with maximized UX(User Experience). The outstanding user-friendliness and sophisticated product design of Doosan's robots were recognized by winning the prestigious Red Dot Design Award for two consecutive years - in the "Interface & User Experience" category & "Product Design" category.
Are Doosan Robotics' collaborative robots really safe?
Doosan's robots have a built-in precision torque sensor in each of six axes for excellent collision detection. The sensors protect workers by detecting even minor collisions. Moreover, the unique functions of the Doosan robot, such as Virtual Fence and Safety Zone, can set additional cooperative zones to improve safety. Easy interface with other safety systems, such as laser scanners, also ensures safety. Doosan robots work best if the environment around the robot and the safety of peripheral devices are secured.