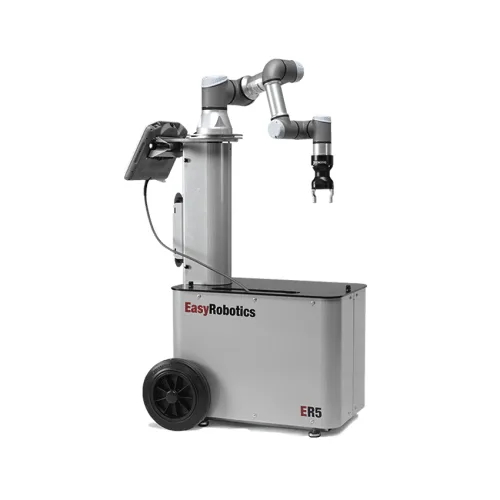 ER Work
Pricing
Price indication:
€ $ £ ¥ 12345.00
€ 12345.00
*Prices are indicative and may vary by country
ER Work
Overview
What is ER Work?
ER Work mobile platform is designed to maximise your cobot's flexibility by giving it wheels.
The ER Work mobile cobot platform is a compact, movable workstation. The workstation is designed to function safely and easily with two of the most common cobots one the market: the UR3 and UR5. ER Work can be utilized both fully or partially automated production environments that demand enhanced flexibility and fast integration.
The ER Work mobile platform was developed with safety and maximum mobility in mind. The integrated wheels and handles make it easy and ergonomic to move the ER Work from workplace to workplace. The ER Work platform ships fully mounted with trays and can also be purchased with a robot arm of your choice. The entire package can be easily moved without the use of a forklift or pallet jack.
The mobile cobot platform is ideal for production environments where, for example, processing machines are packed closely together. In such an environment there might not be enough room for something like the EasyRobotics ProFeeder.
An important aspect of the ER Work platform is that it is ergonomically constructed. This is to ensure that a person can easily move it to processing machines, workstations, or even conferences and meetings! This makes it an ideal companion for salespeople, course instructors, partner demonstrations.
What you get:
ER Work with console for UR robot, controller, and ER1004 ER Work compartment and cord winder.
Weight: 45 Kg
Dimensions: L692*W560*H1002 mm
What applications is ER Work product best for?
ER Work is an easy-to-use mobile platform for both the production site and demonstration purposes. It can be used to demonstrate cobots' capabilities and to support employees training, workshops, etc. The ER Work is compatible with two common cobot models, the UR3 and UR5 from Universal Robots.
In the context of demonstration and course situations, the ER Work can be moved to different production locations. This way the benefits of cobots can be illustrated on site.
What are the specifications of ER Work?