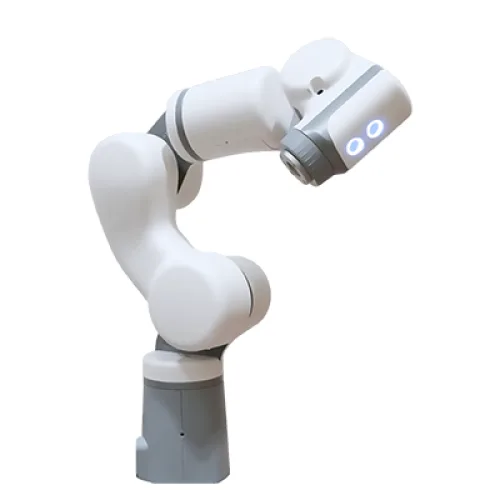 Eva
Pricing
Price indication:
€ $ £ ¥ 12345.00
€ 12345.00
*Prices are indicative and may vary by country
Eva
Overview
What is Eva?
With Eva's ease-of-use, compact size and 6 degrees of freedom, it's the perfect robot for labs and manufacturers of all sizes.
Eva is the most cost effective, flexible and easy-to-use industrial robotic arm on the market today. Small enough to fit around any workflow in both the lab and the manufacturing space – without the need for a bulky cage or separate control box – Eva's 6 degrees of freedom make it as nimble as any human arm (and almost as easy to programme). This industrial robot is the perfect solution for eliminating the repetitive, dull and strenuous tasks that are still being done manually today.

With Eva, you can quickly and easily take the next step into industry 4.0 – and beyond.
What applications is Eva product best for?
Eva is able to automate a number of lightweight (<1.25kg) pick and place applications, allowing teams to remove bottlenecks, optimise workflows and run additional operational shifts without increasing costs. It's best suited for highly repetitive processes that don't require skilled staff to perform.
Eva is the perfect fit for labs of any size and any small-to-medium-sized manufacturing business that want to embrace automation, relieve their staff of repetitive, strenuous, error-prone tasks, and increase productivity and precision.

Unfortunately, Eva isn't suitable for you if you need it to:
Move parts weighing over 1.25kg
Weld, screw, drill, unpackage foods or any other applications requiring cleanroom specs and high temperature/high humidity operating environments
What are the specifications of Eva?
| | |
| --- | --- |
| Payload | 0.75 kg |
| Reach | 600 mm |