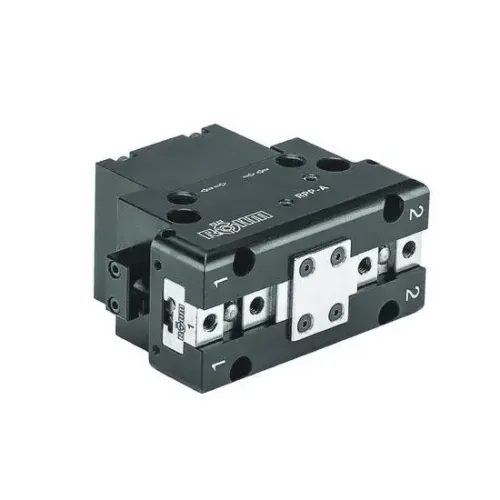 RPP-A 125
Pricing
Choose your model
Price indication:
€ $ £ ¥ 12345.00
€ 12345.00
*Prices are indicative and may vary by country
RPP-A 125
Overview
What is RPP-A 125?

Technical Features:
Centrically clamping in compact design made of high-strength, hard-coated aluminum alloy
All functional parts made of hardened steel for maximum service life
Wedge hook principle with pneumatic actuation (hydraulic actuation available on request)
Position monitoring with inductive or magnetic position sensors
Optionally available with FKM seals for higher temperatures up to 150°C (on request)
Integrable purge air connection to prevent contamination
Advantages:

High gripping force with low dead weight and compact design
Maximum flexibility thanks to versatile connection and fastening options
Long service life and high reliability thanks to specially ground base jaws in proven T-slot guide
What applications is RPP-A 125 product best for?
Universal gripping of round and angular workpieces with two parallel gripper fingers for handling with robots or portals.
What are the specifications of RPP-A 125?