HS-035/045/055A1
Pricing
Price indication:
HS-035/045/055A1
Overview
What is HS-035/045/055A1?
The HS-A1 Series of robots are next-generation SCARA robots that are faster and more accurate than the HS Series of robots while having inherited their advantages.

Total arm length|350 / 450 / 550 mm
Vertical stroke(Z)|100・150・200・320mm
Maximum payload|5kg
Cycle time|0.29 sec
Higher speed
The HS-A1 Series of robots maximize motor performance with the latest RC8A controller, improving the standard cycle time to 0.29 seconds.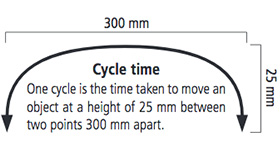 Higher accuracy
By dynamically reflecting the conditions of the arms into robot controlling, vibration of the robot can be damped in a short time. Suppressing vibration at the time of high-speed conveyance and residual vibration improves accuracy.
A wide choice of options is offered.
The dust-proof, mist-proof type; the clean type; the overhead-mounted type; and the UL-listed configuration model(1)are offered, helping achieve automation in various installation environments.
(1) The UL-listed configuration model is scheduled to be released in 2017.
What are the specifications of HS-035/045/055A1?
| | |
| --- | --- |
| Horizontal Reach | 350-550 mm |
| Payload | 5 kg |
| Repeatability | ±0.01-±0.015 mm |