Additional photos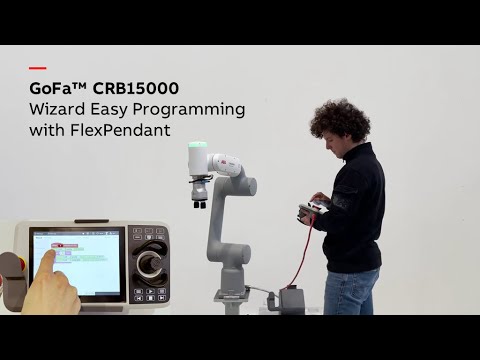 About
GoFa incorporates a range of features that allow it to be used safely, directly alongside human workers and without the need to design and build bulky barriers or fencing. GoFa can continuously share workspace with people, giving it maximum flexibility and efficiency. Robot and human cooperate on the same tasks, without jeopardizing productivity or safety.
With a class-leading reach of 950mm, and the ability to handle payloads up to 5kg, GoFa loves demanding, repetitive tasks. For maximum safety, it also features intelligent sensors in every joint that stop the robot within milliseconds if contact is detected.
With a top speed of 2.2m/s, GoFa is faster than other cobots in its class. Excellent position repeatability and superior motion control from ABB also enable it to perform its tasks accurately and precisely.
Best for
With a TCP speed of up to 2.2 m/s, GoFa is faster than other cobots in its class

12% longer reach than comparable 5kg cobots, 950mm

Smooth and responsive lead through in auto mode, best-in-class
Pricing Overview
Log in for free to reveal the price.
GoFa CRB 15000 Reviews
Alfred Koudelka
nomotec
Oct 8, 2021
Overall

Meet Requirements

Easy to Use

Quality of Documentation

Quality of Support

Maintenance & Uptime

Value for Money

Recommendation
Period
Title
Great easy to use robot
Pro
The new and easy way to teach and program robots. The two freely programmable buttons on the robot
Con
Right now there is nothing I don't like!
---
Ruud op 't Hoog
TRE - The Robot Engineer
Sep 23, 2021
Overall

Meet Requirements

Easy to Use

Quality of Documentation

Quality of Support

Maintenance & Uptime

Value for Money

Recommendation
Period
Title
Easy to use Cobot
Pro
Easy installing, low weight
Con
no air connection on axis 6 first power up needs safemove setup before you can use the robot
---
GoFa CRB 15000 Specifications
| | |
| --- | --- |
| Payload | 5.0 kg |
| Reach | 950 mm |
| Repeatability | 0.05 mm |
| Linear speed | 2200 mm/s |
| Number of Axes | 6 |
| Footprint | 165 mm |
| Robot mass | 27 kg |
| Protection rating | IP54 |
| Application | |
GoFa CRB 15000 Downloads
Go Fa CRB15000 datasheet digital 20210408 ms
3 HAC077390 PS CRB 15000 en rev B
EN CRB15000 Unboxing Pamphlet V0