Additional photos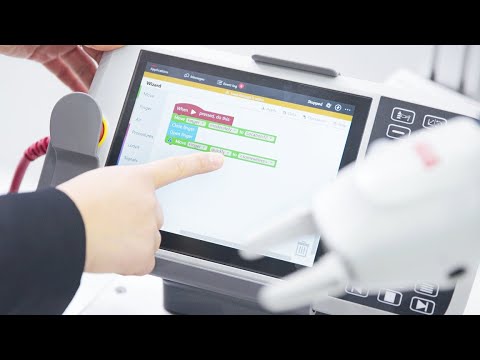 About
Innovative human - friendly dual arm robot with breakthrough functionality designed to unlock vast global additional automation potential in industry. YuMi® is designed for a new era of automation, for example in small parts assembly, where people and robots work side-by-side on the same tasks. Safety is built into the functionality of the robot itself. YuMi® removes the barriers to collaboration by making fencing and cages a thing of the past.
Best for
Best-in-class safety among all cobots on the market thanks to its low arm weight, low payload, rounded design with soft padding, and superior motion control collision detection​.
Highest safe working speed (1.5m/s TCP speed) among all cobots thanks to its inherent safety.
Compact package with two arms and integrated controller​.
Pricing Overview
Log in for free to reveal the price.
IRB 14000 YuMi Reviews
Asad Khan
Deutsches Forschungszentrum für Künstliche Intelligenz (DFKI)
Oct 19, 2021
Overall

Meet Requirements

Easy to Use

Quality of Documentation

Quality of Support

Maintenance & Uptime

Value for Money

Recommendation
Period
Title
Easy to use graphically programmable robot with great flexibility and usability. Dual arms each having 7 DOFs provide a wide range of motion.
Pro
- Graphical programming. - Wide motion range. - Integration of multiple tools and sensors. - easy to calibrate and program using different platforms. (ROS and Unity) - Excellent safety features including automated obstacle detection. - flex pendant support and manual motion features.
Con
- Mobility restricted. (Needs a mobile robot to mount and move) - Documentation and user manuals do not explain much.
---
Patricia Leconte
Flanders Make
Sep 24, 2021
Overall

Meet Requirements

Easy to Use

Quality of Documentation

Quality of Support

Maintenance & Uptime

Value for Money

Recommendation
Period
Title
Collaborative assembly of light switches
Pro
The robot is very accurate and can move quickly while still remaining safe. This is due to the low payload of the cobot.
Con
As far as I know, interlocks have to be programmed manually as with all industrial robots without additional software. This is very time-consuming. The robot arms do not stop or adjust their movements automatically. With CAD information, this cobot should be able to do that better. You need programming skills to program this robot (this is a pro or a con, depending on your background)
---
IRB 14000 YuMi Specifications
| | |
| --- | --- |
| Payload | 0.5 kg |
| Reach | 500 mm |
| Repeatability | 0.02 mm |
| Number of Axes | 7 |
| Application | |
IRB 14000 YuMi FAQ
What is so special about YuMi®?
YuMi® is the world's first truly collaborative robot, able to work side-by-side on the same tasks as humans while still ensuring the safety of those around it. Capable of handling anything from a watch to a tablet PC and with the level of accuracy that could thread a needle, YuMi® will radically change the way we think about assembly automation.
Why YuMi®?
YuMi® is about "you" and "me" creating an automated future together.
YuMi® is "you" and "me", working together to create endless possibilities. That's YuMi®.
YuMi® meets the demands of a consumer market that is driving a need for greater flexibility in automated manufacturing head-on. For manufacturers, the market has changed the rules in ways that can be addressed effectively only by automation. The "new norm" of Small Parts Assembly is higher product volumes, shorter product lifecycles, shorter lead times and a growing trend to customize goods – particularly electronics – close to final markets.
Which tasks has this robot been designed to carry out?
YuMi® is a collaborative, dual-arm Small Parts Assembly robot that includes flexible hands, parts feeding systems, camera-based part location and state-of-the-art robot control. It can collaborate, side-by-side, with humans in a normal manufacturing environment enabling companies to get the best out of both humans and robots, together. One of YuMi®'s unique features is its "inherently safe" design, allowing it to work alongside humans while reducing risks to acceptable safety levels.
How does YuMi® differ from the competition?
YuMi® is inherently safe by design. It has no barriers, no cages, no zones, YuMi® is the first truly collaborative robot solution.
Which benefits do dual-arms bring compared to a traditional robot arm?
It is able to perform the motions required in Small Parts Assembly within a very small space while maintaining a human-like reach. This is critical to minimizing the footprint on the factory floor and also makes it possible to install YuMi® into the work stations currently used only by humans.