Additional photos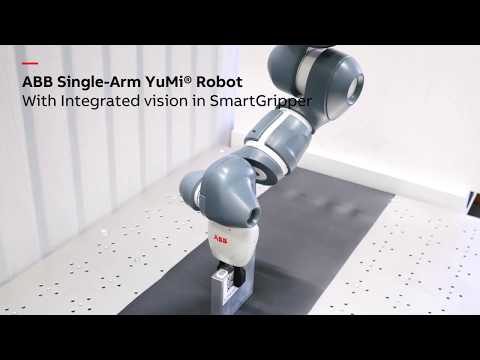 About
Best-in-class safety. Ultimate flexibility. Approachable design. YuMi was engineered to work directly alongside your people, and boost productivity.
From handling small parts to inspection tasks, YuMi was designed to work side-by-side with your people. Light, agile, and flexible as it gets, YuMi is also easy to move and reprogram if your needs change.
Single-arm YuMi is compact and lightweight and supports mounting in any direction including ceiling, table, and wall mounting for rapid and flexible installation to fit into existing production lines. The ultra-light magnesium arm rotates on seven axes to mimic human-like movements with greater agility than 6-axis robots.
Best for
Designed to meet the flexible production needs required by small parts assembly processes including consumer electronics, consumer goods, and small and medium enterprises.
Pricing Overview
Log in for free to reveal the price.
IRB 14050 YuMi Reviews
No reviews yet, be the first to leave a review.
IRB 14050 YuMi Specifications
| | |
| --- | --- |
| Payload | 0.5 kg |
| Reach | 559 mm |
| Repeatability | 0.02 mm |
| Number of Axes | 7 |
| Application | |
IRB 14050 YuMi FAQ
What is so special about single-arm YuMi collaborative robot?
The single-arm YuMi's external controller enables the robot arm to have a much smaller footprint to fit into confined spaces
The low weight and possibility to mount the single-arm YuMi at any angle makes it even more flexible and agile
How does the single-arm YuMi differ from the dual-arm collaborative robot?
The single-arm YuMi can be mounted at any angle for maximum flexibility.
Its small footprint and seven axis agility means it can operate in extremely confined spaces.
The single-arm YuMi uses an external controller that adds flexibility for mounting in constrained places or from the ceiling.
When do customers use dual-arm YuMi and when do they use single-arm YuMi?
Each assembly application is different – some are more suited to the dual-arm, 14 axis YuMi, while others are more suited to the single-arm YuMi. Still others might be more suited to a combination of both robots.
How does YuMi collaborative robot differ from the competition?
YuMi is inherently safe by design. It has no barriers, no cages, no zones, YuMi is the first truly collaborative robot solution.