FH 3D Robot Vision System
Pricing
Price indication:
FH 3D Robot Vision System
Overview
What is FH 3D Robot Vision System?
Focused on sorting randomly stacked parts stored in bins, the camera is mounted on robot arms to add flexibility when acquiring pictures and approaching the objects at different angles instead of from an overhead-only orientation.
Omron's 3D robot vision system can help users with a manual operation for sorting parts used in the assembly process, which can involve sorting mistakes or injuries due to heavy workload lifting and even difficulty in securing human resources for parts picking. The vision system can also be helpful in scenarios where an overhead mounted camera is not emptying the bins or not fitting the available installation space due to excessive mounting structure size.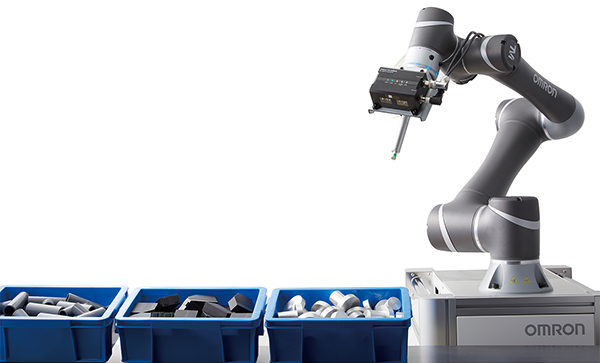 3D Bin Picking Camera + Robot Solution
Camera is capable of precisely identify randomly stacked parts inside of a bin, pick and place them at a conveyor, parts magazine or tray.
3D bin picking camera
3D application software
Multi-axis robots
Repeatability of 0.2mm
+/- 2mm placement tolerance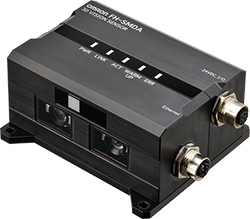 Advanced image acquisition and measurement
Shorten measurement time by taking a single shot of the object with a multi-pattern structured light. It also contains a built-in 2D light for code reading and other inspections.
Active One Shot technology
Acquisition and measurement time as fast as 0.4s
Built-in 2D and 3D structured light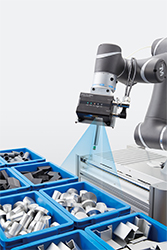 Stable 3D position detection of parts
Increase capability to fully empty the bin by taking pictures on different angles of parts in challenging positions. Having a compact, lightweight camera to move it on the robot arm instead of having it installed on a fixed location, adds flexibility to the vision system and improves parts detection.
Robot arm-mounted camera
Approach bin in different angles
Repeatability of 0.2mm
Lightest camera in the market (0.6Kg)
Smallest 3D camera in the market (110x97x53mm)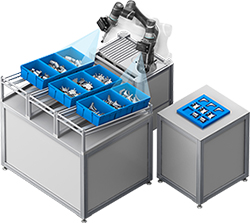 Small footprint picking system to install
Reduce cell size by installing the compact camera on the robot arm instead of a fixed location that could be extremely tall for longer FOVs. Also allows for cell flexibility by modifying only software for camera and robot instead of cell fixtures. Network segregation to separate machine network (quick data exchange) from factory level network (heavy loads of data), allowing for data organization and machine speed improvement
Short working distance of 200mm, FOV 400x300mm
Robot and camera software changes instead of physical cell modifications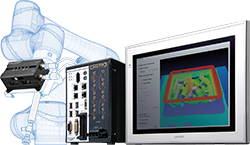 Vendor partnership, seamless integration and easy implementation
Shorten design cycle and startup time.
Single vendor supporting the entire system (robot, vision, safety, I/Os, etc.)
3D Application Software (Measurement and Recognition, Parts Grasping and Robot Control)
Template programming for both camera and robot control
Support Omron and third-party robots