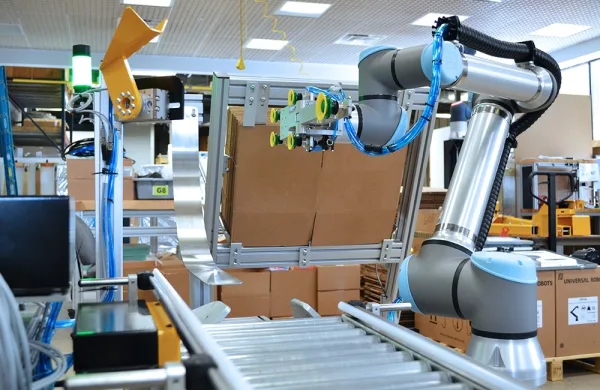 ROBOTIC PACKAGING MACHINERY
Pricing
Price indication:
ROBOTIC PACKAGING MACHINERY
Overview
What is ROBOTIC PACKAGING MACHINERY?
Automate the dull and ergonomically unsafe tasks associated with end-of-line packaging operations. Our robotic packaging solutions are turn-key and designed to fit into both new and existing operations.
Turn-key Automation
Robotic solutions for every step in the packaging process! Featuring a modular design, all of our solutions can be added to both new and existing lines.
Fully automated packaging lines
Robotic case erectors & case packers
Collaborative robotic palletizers
Quality control vision integration
Custom conveyor configurations
COLLABORATIVE PACKAGING ROBOTS
By integrating collaborative robots into our packaging systems, we can provide solutions that are modular and easily added to both new and existing packaging lines.
Case Erector & Case Packers
Automate an existing line within the same footprint! By using cobots, case erectors and case packers are easily integrated into existing lines.

SYSTEM FEATURES
Multiple flat shipper magazines
Top and bottom taper options
Custom end-of-arm tooling
No caging or guarding needed to operate